Welcome to The Dermal Clinic in Historic Downtown Lodi
Bare Minerals
MD Formulations
Elán Botanicals
Earth Lights Mineral Make-up
Eckstein Biokosmetic
Colorescience
Clairsonic Cleansing System
Lash Out
Come with me to a quiet place... and rest
Mark 6:31
"Congratulations to The Dermal Clinic team for providing the ultimate customer experience and earning high customer satisfaction ratings!!!" --City Beat News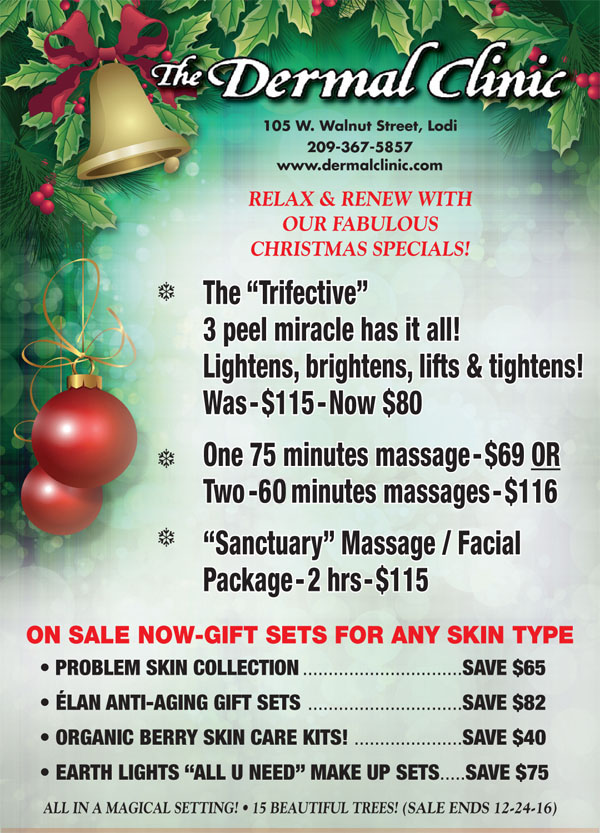 SAVE THE DATE!
NOVEMBER 5th from 10-5
We will launch the Christmas season with our annual HOLIDAY OPEN HOUSE & EVENT! The festivities include:
FIRMING VITA C "TRI-FECTIVE" PEELS **1/2 off
Christmas gift sets from Elan **1/2 off
Organic Berry Sensitive skin kits **1/2 Off
Problem skin collection **1/2 off
$500 gift basket drawing
FREE MAKEOVERS ALL DAY!
MICRODERM DEMO... (maybe we'll choose YOU as our model!)
All in a magical setting....15 beautiful trees! BRING YOUR FRIENDS & MAKE A DAY OF IT!!
THE DERMAL CLINIC was established in 1995 by Judy Phillips to provide the ultimate in skin care and personal services. We have grown to include 10 caring professionals offering esthetics, massage, acupressure and M.F.R., lash extensions, professional products & makeup & so much more!! (see salon services page). There are 7 beautiful facial rooms to accommodate bridal parties, couples facials, girlfriend facials or that last minute event!
We provide an educated, natural approach to health, beauty and wholeness. Only the finest natural cosmetics are offered, including: Bare Minerals - Earth Lights Mineral Makeup - Elán Botanicals - Colorescience - M.D. Formulations - Eckstein Biokosmetic - Skin Script enzymes - Lash Out professional eyelash extension products (Products)
Our high standards and quality prove that The Dermal Clinic pursues extensive product knowledge and continuing education, blending the forces of nature with the vigor of modern science.
We offer a full range of facials and treatments for any skin type or budget, starting at $55 up to $130 (click here for salon services). Our aroma-therapeutic facials or glycolic peels are customized to each individual client. We utilize an array of natural botanicals, holistic compounds, vitamins, alpha/beta hydroxy acids, and organic botanical enzymes to lift, firm, & resurface the skin.
All Elán skin care products have been tested and proven to be safe, effective and of course, cruelty free.
BE SURE TO VISIT OUR ON LINE STORE!! (Bare Minerals may not be purchased on line. We will promptly answer your e-mail requests for any items not seen in our store). (click here to contact us)